Step One:
Once you have opened your Invoice number, choose 'Print/PDF Version' in order to see invoice in entirety.
Step Two:
Download document to view: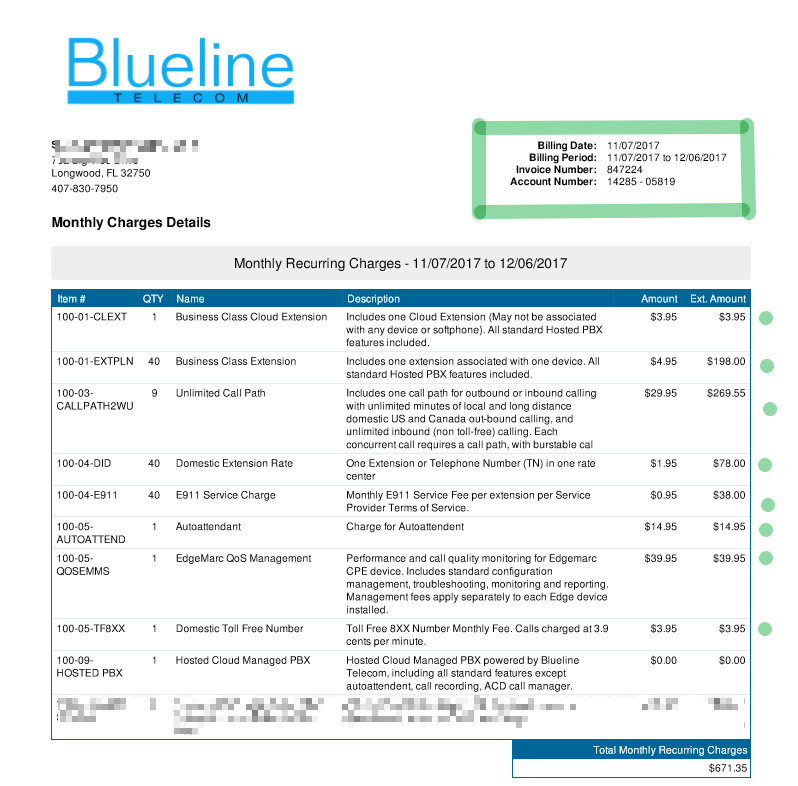 Highlighted in Green at top left, you can see the billing cycle. Invoice Number, Account Number, and Billing usage dates.

Line One: Business Class Cloud Extension: Monthly charge for Mobile extensions on Account
Line Two: Business Class Extensions: Number of TOTAL seats on account.
Line Three: Unlimited Call Path: Total Number of users allowed to be on the phone at one given time (actual Line total).
Line Four: Domestic Extension Rate: Surcharge per extension.
Line Five: E911 Service Charge: Surcharge for E911 Usage capabilities.
Line Six: Auto attendant: charge for usage of Auto Attendant
Line Seven: QOS Management: Proactive monitoring of service, troubleshooting and reporting of QOS Device.
Line Eight: Domestic Toll-Free Number: Charge for having a toll free number on Account

These are charges for service monthly. The next Section is "Non Recurring Charges"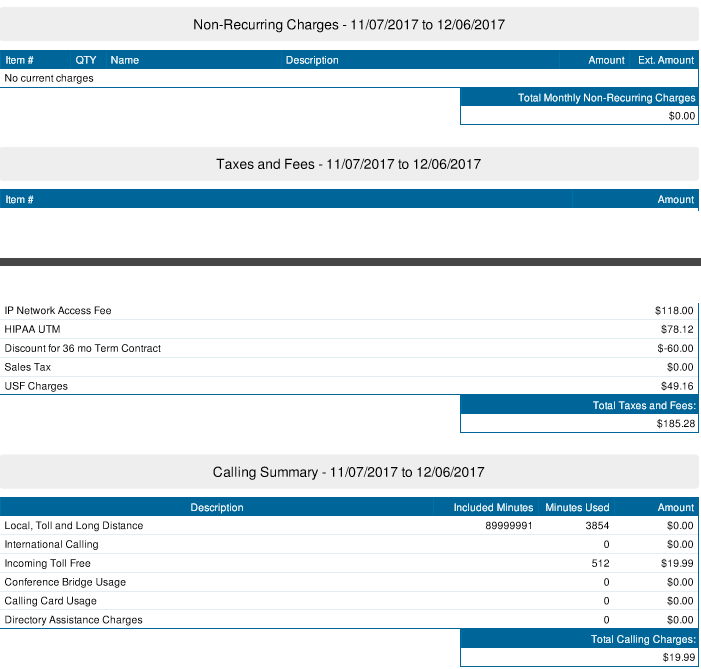 The Non-Recurring Charges Section will reflect the following:

Any work done: service calls, move orders, troubleshooting that is beyond the measure of a "Blueline Service Issue"
Additional equipment added to account 

Taxes and Fees: IP Network Access, HIPPA Compliancy tax, Any Discounts would reflect here, Sales Tax (unless Tax exempt), and USF Charges (Standard Telecom Tax).
Calling Summary: Minutes above and beyond included, any International Usage, Incoming Toll-Free Calls, Conference Bridge Usage, Calling Card Usage, and Directory Assistance usage.
The end of your invoice will show a detailed list of EVERY Toll-Free Call made on your account for the month of service. 
Of course, we are available to answer any questions as well.
Blueline VoIP Support Team
Chat with us is a quick way to get a quick answer – go to our web page www.bluelinevoip.com and chat with us on the bottom right.
Email to open a ticket with us: [email protected]
Call Us: Tel: 888-551-0811